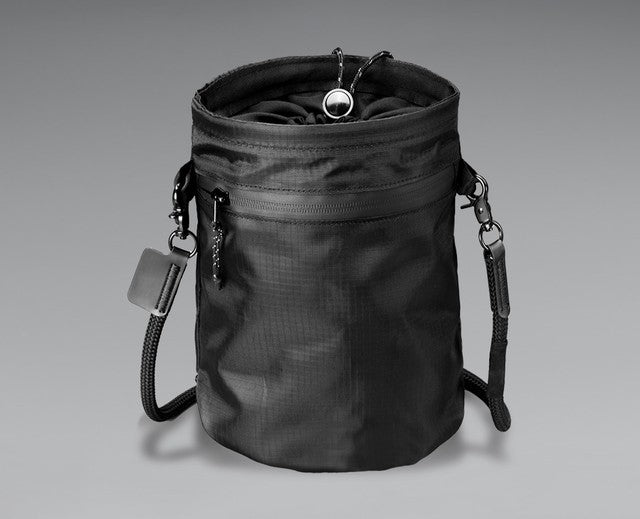 Recycled PET Bottle Sacoche with 10.00mm Rope Strap
Front zip compartment for frequently used items

Bottle holder with fastener

Keeps a bottle, travel mug or lunch box protected from scratches or other damage

Each sacoche comes with 1 rope strap

100% recycled polyester made from pre and post consumer materials, usually PET bottle
SPEC
Length : 20 x 23cm
Weight : 45(G)
Material : Recycled polyester
SHIPPING & RETURN
All non-customized order will be shipped out within 1 - 2 business days, customer will receive an email with dispatching information once the order has been collected by courier.
If you are not entirely satisfied with your purchase, we accept return for items withing 14 days when you received the item, please visit our return policy at below.
Secure Closure
The integrated fastener is a strategic addition that ensures your bottle remains securely in place within the sacoche. It eliminates the worry of potential drops or spills, allowing you to move with confidence and ease.
Durability and Easy Maintenance
Our sacoche is crafted from durable materials that endure the rigors of daily use. This durability is complemented by an intuitive design that facilitates easy cleaning and maintenance, ensuring your sacoche remains as polished as the day it arrived
Additional Pocket for Essentials
Beyond its primary function, the bottle sacoche is equipped with strategically placed additional pockets, each catering to the storage of your essentials. Your keys, wallet, phone, and even a lip balm find their designated space within the outter compartments. This organization ensures easy access to your necessities, minimizing the need for rummaging.
Mix and Match
Each sacoche comes with one detachable rope strap, or you can purchase additional straps in different colors separately on our website

The beauty of our 11 color straps lies in their versatility. Mix and match different straps with your sacoche to create unique looks that stand out. Adapt your bottle sacoche to any occasion, whether it's a casual day out, a chic evening gathering, or an outdoor escapade.
RPET: Redefining Sustainable Style
By choosing the Bottle Sacoche made with RPET material, you become a part of a larger movement towards a more sustainable future. Your decision to support responsible fashion sends a message that environmental consciousness can be seamlessly integrated into everyday life.