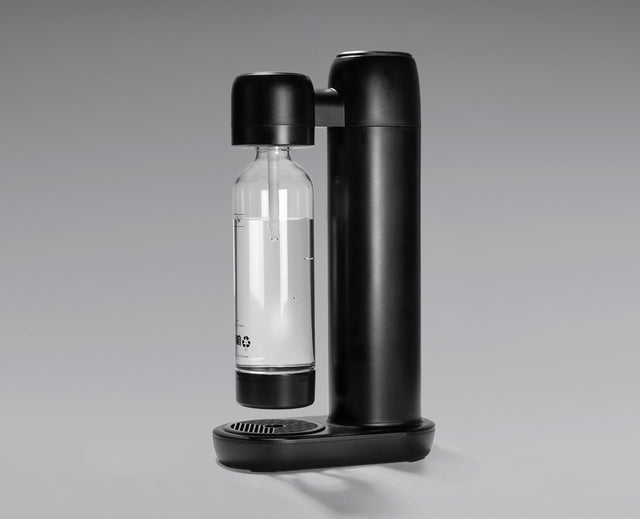 [Bundle Set] Calypso™ Carbonator With Co2 & Recycled PET Bottle & 2 Calypso Glass Bottle
Cordless and no electricity required
More economical, environmental friendly alternative to purchase cans or bottles of sparkling water
BPA-free carbonating bottle with hermetic sealing lid

0 Sugar、0 Calorie、0 Added Ingredient
Compatible with standard CO2 cylinders from most soda machine brands
DIMENSIONS:
WEIGHT:
WHAT'S IN THE BOX:
Calypso™ Carbonator x1
Carbonating PET Bottle x1
Gas Cylinder x1 (This carbonator is compatible with any screw-in 60L CO2 cartridge)

Calypso™ Glass Bottle
CAPACITY OF THE PET BOTTLE:
SHIPPING & RETURN
All non-customized order will be shipped out within 1 - 2 business days, customer will receive an email with dispatching information once the order has been collected by courier.
If you are not entirely satisfied with your purchase, we accept return for items withing 14 days when you received the item, please visit our return policy at below.
FOR YOUR SAFETY
DO NOT carbonate into an empty bottle.
DO NOT move the soda machine when it is carbonating.
DO NOT carbonate for over 5 seconds.
DO NOT carbonate anything other than clean water. If the water contains sugar
or other compounds the machine could malfunction and it could be dangerous
to use the product
Fill the bottle with clean water only up to the fill line.
Do not put the cylinder into the freezer and/or into the fridge. Always keep the cylinder away from any sources of heat and direct sunlight
Keep the carbonator away from children. It is not recommended to be used by children under 12 years old without adult supervision.
The carbonating bottles are hand wash only. Non-dishwasher safe.

Reduces Single-Use Plastic Bottles
We believes that what is better for the environment. Your Calypso™ Carbonator makes it possible to significantly lower your consumption of single-use plastic bottles with sparkling water and soda cans, while together reducing the carbon footprint by 80%.
Our carbonating bottle is the safest reusable water container with no harmless chemicals. In order to provide a best water quality and drinking experience to user, we have created a hermetic sealed lid which could keep your water and beverage fresh and fizzy longer
Your Own Fresh Sparkling Water
Making sparkling water at home is not as difficult as you might think, our Calypso™ Carbonator can make carbonated water in just a two step process, fill the calypso carbonating bottle with clear water and screw together with the soda machine, press the button on top for 2 - 3 seconds, depending on how carbonated you like it.

Making your own carbonated water will also save a good amount of money while you enjoy your carbonated drink anytime anywhere, you will never have to buy bottled sparkling water again.

Elevate Your Drinking Experience
Driven by our passion for design, Calypso™ Carbonator are engineered and modern, it becomes a decorative elements of the kitchen and dining table.

In addition to the sophisticated appearance, the carbonated water makers also produce carbonated water with strong, large bubbles giving a slight tingle from the front to the back of the mouth, which is a bonus.
0 Sugar、0 Calorie、0 Added Ingredient
Carbonated water is just as healthy as still water, while some researches show that sparkling water can actually benefit your health by reducing the feeling of needing to persistently clear your throat, keeping your satiety for a longer period of time after meals and improving your heart health. It can also be a great way to help kick a soda habit if you drinking sparkling water.